Hexane is a colorless, flammable liquid that is derived from crude oil. It is a hydrocarbon with the chemical formula C6H14. Hexane is commonly used as a solvent in various industries, including pharmaceuticals, food processing, and manufacturing.
It is also used as a fuel in some engines and as a cleaning agent. Hexane is considered to be a hazardous substance and should be handled with caution. The figure 1 shows the chemical structure of hexane.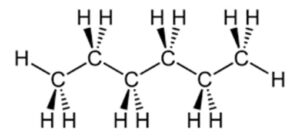 Fig. 1 – The chemical structure of hexane
The Hexane includes the following five isomers:
n-hexane
2-methylpentane
3-methylpentane
2,2-dimethylbutane
2,3-dimethylbutane
Hexane derived from crude oil through the refining process of petroleum. It is primarily obtained as a fraction during the distillation of crude oil. This fraction is further processed to obtain pure hexane. Figure 2 shows the hexane production and composition.
Fig 2. The hexane production and composition.
Hexane Applications
Hexane is a widely used organic solvent and commonly used in the food industry for extracting oils from soybeans, peanuts, and other oilseeds. The most important uses of hexane are:
Popularity as a Solvent: Hexane is commonly used as a solvent in the extraction and purification of vegetable oils, pharmaceuticals, and other organic compounds.
In Oil Processing: Many types of plants and vegetables are treated with this chemical in order to extract their oils and proteins for use in other products.
Food processing: Hexane is used in the food industry to extract oils from seeds and nuts, such as soybeans and peanuts.
Fuel: Hexane is used as a fuel in some internal combustion engines, particularly in racing cars and motorcycles.
Cleaning agent: Hexane is used as a cleaning agent for machinery and equipment in various industries.
Laboratory use: Hexane is used in laboratories as a non-polar solvent for experiments involving organic compounds.
Paint thinner: Hexane is used as a paint thinner in the manufacturing of paints and coatings.
Adhesives: Hexane is used as a solvent in the production of adhesives, such as contact cement and rubber cement.
The demand for hexane in the united states arises from various sectors, including flowing items:
Agriculture (for extracting vegetable oils)
Manufacturing (as a solvent)
Energy (in oil extraction processes)
Hexane is also utilized in the production of adhesives, rubber cement, and other glues. Its ability to dissolve various types of adhesives makes it an essential component in the manufacturing process of these products.
In the pharmaceutical industry, hexane is used for the extraction of active compounds from plants. It is employed in the production of herbal supplements, essential oils, and other natural products.
Furthermore, hexane finds application in the production of certain plastics, synthetic fibers, and synthetic rubber. Its solvent properties are utilized in the synthesis of these materials.
The Global Demand For Hexane
The worldwide demand for hexane is approximately 1.1 million tons per year, with 650,000 tons used for extracting oil from seeds and 450,000 tons used for producing natural extracts and specialty oils. Figure 3 shows hexane value chain: products and applications.
Fig 3. Hexane value chain
The hexane industry is projected to experience a 3.9% growth between 2023 and 2028 due to its increasing use in the pharmaceutical sector for molding tablets and pills.
Main Producer for Hexane
China is the main producer of hexane, dominating the global market due to its large-scale production capabilities. Chinese manufacturers have established themselves as reliable suppliers, meeting the demands of industries worldwide.
The distribution of hexane is facilitated by specialized chemical distributors who have expertise in handling and transporting hazardous materials like hexane.
These distributors ensure the safe and efficient delivery of the product to customers across different regions. Some manufacturers also have their own distribution networks to ensure a seamless supply chain.
Bulk Purchase of Hexane
For bulk purchases of hexane, it is advisable to directly contact manufacturers or authorized distributors. They can provide competitive pricing and tailored solutions based on specific requirements.
Industries such as pharmaceuticals, cosmetics, and industrial manufacturing, which require large quantities of hexane, often make bulk purchases for their operations.
How is Hexane Shipped
While hexane is widely used, it is important to handle it with caution due to its flammability and potential health hazards. It should be stored in a well-ventilated area away from open flames and sources of ignition.
Personal protective equipment, such as gloves and goggles, should be worn when handling hexane to minimize exposure.
If you inhale hexane, get fresh air and seek medical help if you're unsure or symptoms persist. If hexane comes into contact with your skin, rinse it off with water or take a shower and consult a doctor if you experience skin irritation.
If hexane gets in your eyes, rinse them carefully with water for several minutes and seek medical help if you're unsure or symptoms persist. If you accidentally ingest hexane, call a doctor immediately or seek medical help if you feel unwell.
Hexane is typically shipped in bulk using various modes of transportation, including tankers, drums, and containers.
Tanker trucks or railcars are commonly used for domestic shipments, while intermodal containers are preferred for international transportation. Proper packaging and labeling are essential to comply with safety regulations during shipping.
Main Key Role Country For Hexane
The united states plays a significant role in the hexane market as both a producer and consumer. The country has a well-established petrochemical industry, contributing to the global supply of hexane.
The hexane market has been segmented based on region and grade as follows:
Asia-Pacific:
China
India
Japan
South Korea
Rest of Asia-Pacific
North America:
United States
Canada
Mexico
Europe:
Germany
United Kingdom
France
Italy
Rest of Europe
South America:
Brazil
Argentina
Rest of South America
Middle-East and Africa:
Saudi Arabia
South Africa
Rest of Middle-East and Africa
Hexane Market Recent Developments
Sumitomo Chemical announced plans to build new research facilities in Chiba and Osaka while reorganizing research laboratories in Osaka, Tsukuba, and Chiba to accelerate the creation of next-generation businesses.
GFS Chemicals, Inc. also announced a new partnership with Hanna Instruments USA, Inc. in February 2021 to expand its customer base by offering products such as Karl Fischer titration solutions and other specialty solvents and reagents for applications like peroxide value and acid number.
Finally, Indian Oil Corporation Ltd revealed plans for a more than $400,000 expansion project at its Chennai refinery in January 2021.
Oil extraction/ food grade
Industrial grade
Pharmaceutical grade
Based on application, the hexane market has been segmented as follows:
Oil extraction
Industrial cleaning and degreasing
Pharmaceutical
Polymerization
The Leading Players In Hexane Market
Some of the key players in the global hexane market are listed below:
China petroleum & chemical corporation (CHINA)
Shell plc (UK)
Exxon Mobil Corporation (US)
Rompetrol-Rafinare (ROMANIA)
Junyuan Petroleum Group (CHINA)
Total energies (FRANCE)
Phillips 66 Company (US)
Indian Oil Corporation Ltd (INDIA)
Petróleo Brasileiro S.A. (BRAZIL)
Bharat Petroleum Corporation Limited (INDIA)
Hindustan Petroleum Corporation Limited (INDIA)
Honeywell International Inc. (US)
Sumitomo Chemical (JAPAN)