Materials List – Refining and Petrochemical
C2Cl4
Chemical Names: Tetrachloroethylene, Perchloroethylene, Tetrachloroethene, …
Molecular weight: 165.833
Tetrachloroethylene known as a chlorinated hydrocarbon is a clear, volatile, with a sweet, fruity odor like that of ether, nonflammable colorless liquid. It grouped as a carcinogen material. Stability and nonflammable features cause that it knows as an important solvent. Because of dissolving greases, oils, and waxes without affecting fabrics, it is used to dry clean fabric a lot.
Tetrachloroethylene is used as a basic raw material in the manufacture of chlorofluorocarbons (CFC's), principally trichlorotrifluoroethane (CFC-113), which is used in the electronics industry, in metal cleaning, and in dry cleaning, and is a famous chloride agent that creates great amount of chloride ion (Cl¯) used as a catalyst promoter and reformer (isomerization grade). Chlorinated solvents are also used as a source of chloride for reforming catalysts.
Perchloroethylene can be offered for the isomerization and catalytic reforming processes.
Morpholin
Morpholine is a mobile colorless hygroscopic highly flammable liquid with less dense than water and heavier vapor than air and penetrating, Characteristic amine, a fishlike odor which is miscible with organic solvents and water( the mixture of morpholine and water is without a constant boiling point). It has irritating and corrosive properties. Morpholine constructs a strong base in an aqueous solution that is volatile with steam.
Morpholine Industrial applications is as corrosion inhibitors in steam boiler system (Morpholine has been used as a corrosion inhibitor in the natural gas and pipeline industry), an intermediate in the manufacture of rubber accelerant (such as NOBS, OTOS and MDS) and optical brighteners (an important intermediate in the manufacture of optical brighteners), waxes and polishes(Fatty acid derivatives of Morpholine as emulsifiers in the manufacture), bactericides, pharmaceutical chemicals, antioxidants for lubricating oils and textile lubricants and sizing emulsifiers, sulfuration agent (like DT-DM), cleanser, descaling agent, antirust, anti-scorching agent, antiseptic, surfactant, textile printing & dyeing agent, hydrolyzing agent, initiator, developer, fruit preserving agent, deodorizer, brightener and organic solvents.
Removing carbon dioxide, hydrogen sulfide, or hydrogen cyanide from gasses can be occurred by an aqueous solution of Morpholine (2 M). It is the preferred amine for scrubbing organic sulfur compounds, in an oil-amine mixture, from fuel gas and for purification of acetylene and certain olefins.
Morpholines can be obtained by different ways like the acid-catalysed (sulfuric acid) dehydration of Diethanolamine or a by-product of the reaction of Diethylene glycol with ammonia at high temperatures and pressures, to produce Z-(Z-hydroxyethoxy) Ethylamine as the main product with or without a catalyst.
ASA3 (Anti-Static Agent)
A compound with anti-resident electricity application. It reduces resident Electricity gathering or removes generally by covering the material surface. Anti-static molecules are often made of two parts, the hydrophilic and hydrophobic like surfactants. the ASA3 is known as an anti-static additive so-called "ASA" and "3" is used to describe that system consist of a three-component:
• An alkylated salicylic acid chromium salt
• 2-ethylhexyl sulfosuccinate
• An organic non-metallic polymer
HCl
Other names: Hydrochloric acid; Hydrogen chloride; Muriatic acid; Chlorohydric acid; Acide
HCl vapors fast and greatly that make serious and pungent odor and can be harmful to lung, eye, and skin.
Solving hydrogen chloride in water create a strong corrosive acid which is colorless liquid with strong irritating odor and stable in high temperature. One of the usages of HCl is in acid washing for cleaning rust, calcium carbonate, other sediments in the good path (oil well acidizing) and oil- and gas- well stimulation. HCl performs extensive situation in the formation of carbonate and hydraulic breaking process.
RO-Chemicals
Pushing water under pressure to demineralize or deionize water through a semi-permeable Reverse Osmosis Membrane is a procedure, which is named Reverse Osmosis or in the abbreviation is famous in RO. osmosis happens in a natural way without any needs of energy, but if we want to happen osmosis in other direction we should provide the energy needs. RO is a useful technology, which is supported by science, for manufacturing water. This method so important and effective for industries need demineralized or deionized water.
One of the energy resources is natural gas and one of the important points in gas resources development is the control and management water which is manufactured in association with gas. Pressure vessels, pipes, pumps, controls and instruments, all of them need the high-quality water usage so in oil and gas industry handling water is more and more than just water treatment. Little chemical additives and a minimal brine stream manufacturing, which need off-site disposal, is the needs of the RO procedure. From oil views, RO process turns oil field brine into fresh water effectively and successfully.
MEG
A dihydroxy alcohol, an organic compound, has features like sticky, without color and odor, toxic sweetened, corrosive and environmental adversary, with lots of usage in different industry like plastic, preparation of polymer resins, fibers, polyester fiber, drink bottles and packaging films, and as a solvent, antifreeze and coolant in hydraulic brake liquid.
MEG is decomposed by a heating situation.
MEG is created from ethylene through ethylene oxide, which is hydrated by either a thermal or catalytic creatin procedure usage.
MEG added in natural gas before transportation because we want to make sure natural gas effective transportation via pipes, prevent from pipe corrosion because of brine, crystal of salt and the best corrosion materials absorption, and create hydrates and obstruction throw pipes and equipment. During the process, pollution slowly grows, and the important point is to treat regularly polluted MEG in suitable gas treatment. Because of wasted MEG amount and cost reduction, MEG is frequently reconstructed.
DMDS


Sulfur compounds are widely used in olefin furnaces for speed, the selectivity of the conversion of hydrocarbons and prevent the formation of coke one the inner surface of the reactor.
Carbon disulfide is a light yellow clear liquid which natural impurity sample has odoriferous but the pure chemical material has sweet odor line chloroform. This material in industrial and agricultural activities has multiple uses and naturally is produced in a low-oxygen environment by the result of microbial activity. The highest concentration of carbon disulfide can be found near industrial estate especially gas refineries.
Coke is one of the unsuitable byproduct produced in thermal cracking. It has lots of ineligible effect on the process, so it is important to eliminate them from the inner surface of the reactor and diminish coke production speed. Usage of DMDS is one of the solutions.
At the beginning of thermal cracking, hydrocarbon and water enter the pre-heating region to produce diluent steam. The temperature of pre-heating is 300°C which water and hydrocarbons enhance steam and then water and hydrocarbon gaseous blend exactly and enter the reactor. The reactor temperature is 820-840°C. DMDS added to feed is dissolved by high temperature. The decomposition main products are carbonyl sulfide, hydrogen sulfide, methanethiol, dimethyl sulfide, methane, and SH free radicals.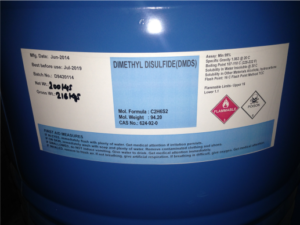 The gas phase sulfur compounds are absorbed easier to the metal particles and reactor walls than hydrocarbons and water molecules.
CS2+RH -> (CHS)-SH
(CHS)-SH -> CHS° + SH°
SH° + Metal -> Metal Sulfide + H°
Actually the unshared couple electrons on sulfur compounds leading to strong chemical adsorption on the surface of the metal. Sulfur chemical absorption on the surface of the metal, make a metal sulfide layer on the surface of the reactor. This metal sulfide layer is the preventive layer that can effectively reduce reactor surface catalyst activity and as a result coke formation.
Anti-Foam
An unacceptable complication, excessive process sediment, interrupting production, cavitation in pumps, reduction of treating equipment capacity, growth in maintenance costs and time of the process, and as a result reduction in productivity and revenue, all happen because of foam.
Against, in refining, processing and even shipment of the finished product, make a lot of problems in the production and refining of oil. By removing foam of process, production costs will be decreased and efficiency shows growth. Famous anti-foam widely used as a solution for this problem are silicones, octyl alcohol, various glycols, aluminum stearate, and sulfonated hydrocarbons. Nowadays, researchers are focused on finding non-silicones material for the sensitive environmental area.
A mud additive is added for decreasing interfacial tension and as a result, trapped gas will release from mud. Another usage of anti-foam is in mechanical degassing equipment.
Antifoam is used in this steps of oil and gas production: drilling mud, gas-oil separation, gas scrubbing, and gas dehydration.
Antifoam is used in this steps of the refinery: storage tank froth-overs, vacuum distillation, cracking process, crude distillation, benzene-toluene-xylene (BTX), asphalt processing, extraction (aromatics), and delayed coker.
Anti-Icing
Many fuels have features that don't permit their long time storage, transport and use hardly. Fuel additives added a little to the fuels affect about 20 fuel's properties (improve them or make new useful features to them). They are organic materials dissolved in fuels. One member of this group is anti-icing.
Anti-icing uses as a solution for winterization on oil stations icing is an important problem in places with cold weather. Low temperature and sea-water spray are the reason of surface ice formation that makes drastic problems for personnel and operation's safety. The effects of icing are growing wave impact on the platform (piling structure icing), unbalanced weight loading of the platform (bottom deck icing), skidding and falling (surface and stairs icing), endangering helicopter's safety (helideck icing) and effect GPS positioning and telecommunication (antenna icing).
KCl
Metal halide compound of potassium and chloride is used in manures, hazardous and buffers. It has intense salty taste and white colorless solid with powdery, crystalline form. KCL is a hygroscopic compound dissolved in water and its solubility is increased in high temperature. Potassium is important for our health and its compound is widely used as a drug in health science.
KCL is the most important potassium salt compounds that exist as an ore in nature.
KCl is an ionic compound.
Potassium chloride has a lot of usages, like NaCl alternative in home water softener units and widely usage in oil and natural gas drilling but recently oil Drilling Companies had replaced Potassium Chloride (KCL) with Choline Chloride. The use of KCL in drilling has environmental concerns as chlorides do not degrade and can enter surface water carrying heavy metal including cadmium and mercury but Choline Chloride has not this bad effects. Potassium Chloride is a temporary clay stabilizer used for preventing the swelling of clay.
A solvable salt that is an extremely effective shale stabilizer when drilling hydro sensitive clays and shales. Exchange create inhibition; the potassium ion enters between the individual clay platelets in the shale so that they are held together, so miss entry of water from the drilling fluid.
Usual oil well drilling chemicals:
KCl

BENTONITE

BARITE

Calcium Carbonate

GUAR GUM POWDER
Benefits:
Low price and easily available
Advantages gotten at low concentrations
Has harmonic with most drilling fluid additives
Stabilizes water sensitive clays and shales
Removes issues resulting from shale instability
Fast solving
Activated Carbon
Best choice to purify raw materials, intermediaries and finished productions in oil and gas industry, whether catalyst support for hydrocarbon sweetening, decolorizing field condensates, or cleaning gas scrubber liquids for growing endurance of them, is a non-graphitic form of carbon named activated carbon.
Granular activated carbon plays a major role in the purification of gas scrubber liquids, as a result, amines foaming, corrosion and makeup of amine reduction, quality of amine and plant operation efficiency increasing happen. Removing heavier hydrocarbons, resins, and asphaltenes to receive the NGLs pipeline characteristics by using activated carbon cause decreasing trucking field condensates to alternate pipelines costs and increasing condensates value.
Surface area and hole volume or structure are the two basic factors related to the activated carbon efficiency. The most important point to select the activated carbon is clear comprehension of the material absorptive and physical specifications for optimizing capability of efficiency.
We can group activated carbon applications in 5 categories:
• Absorption: The commonest mechanism as physical or chemical absorption.
• Diminution: Chlorine-removing from the water.
• Catalysts: Catalyzing many chemical conversions.
• Biomass Carrier: Material supporting in biological filters.
• Chemical Carrier
Activated carbon in a stable bed endlessly treats chemicals of the process for restoring their features in line with intact production, decrease extremely production process and allows the highly polluted resource conversion which before was hard to exploit.
Activated carbon due to their unique features and low price in comparison with inorganic absorbents such as zeolites are great importance. Activated carbon because of their extensive surface area, pore structure, high adsorption capacity, and the surface re-activate ability, are grouped as unique material.

---
Materials List – Amines
DGA
One of the most usual methods for gas sweetening is the usage of Alkanolamines which are extremely used in oil industry. The most usual Amine solutions in the first modeling of purification Amine units is Diglycolamine (amine-sweetening agent). In oil, gas and petroleum industry DGA is used for sweetening and absorbing H2S and CO2 from the gas.
Diglycolamine, a colorless transparent liquid, slightly viscous, with typical mild amine odor, is the first type Amine that has great compatibility with CO2 and H2S. DGA can be miscible with water, alcohols, and aromatic hydrocarbons, but relatively not with aliphatic hydrocarbons and ethyl ether. An important feature of DGA solvent is low vapor pressure and high density so as a result of the Comparison with MEA solution in terms of decay solvent (because of low steam vapor) and solvent in circulation (because of high density) has a better economical position. In addition, DGA is antipathetic to reversible reaction with CS2, COS, SO2, SO3. The DGA disadvantage is high reaction temperature.
Another usage of DGA in oil and gas industry:
• For removing COS from liquid hydrocarbon steams
• Selective solvent for recovery of aromatics from refinery steams
• Removing CO2 and H2S from natural and refinery gas, aliphatic hydrocarbon liquids and other sour hydrocarbon steams
• Preparing foam stabilizers
DEA
Natural gas contains acidic compounds such as hydrogen sulfide (H2S) and carbon dioxide (CO2). Because the existence of such acidic compounds in sour gas causes corrosion, they must be removed before the arrival of natural gas in pipelines.
In this operation is usually used alkanol amines aqueous solutions such as Mono Ethanol Amine (MEA), Di Ethanol Amine (DEA) and Methyl Di Ethanol Amine (MDEA) as a Scrubber Solution to remove acidic compounds such as hydrogen sulfide and carbon dioxide from natural gas to sweeten sour gas. DEA is known as a general sweetening agent in the 1960s. DEA best advantages are effective energy saving because of removing far more amount of acid gas, another advantage than MEA is not producing nonregenerative products with COS and CS2 and in corrosion effecting is less than MEA.
The most usage field in USA of DEA is as surfactants, agricultural materials, gas purification, laundry detergents, textile processing, miscellaneous, metalworking fluids.
One of the productions of a reaction of ethylene oxide with ammonia is a clear oily white crystal solid or colorless liquid with ammonia odor which named diethanolamine.
Iran is trying to produce DEA in large industrial scale for sweeting gas process needs.
MDEA
An amino alcohol, an organic compound which is a clear, hygroscopic, colorless or wan yellow liquid, with Amine-like odor, miscible with benzene, alcohol, and water (The solution in water is a medium strong base), and heavier than air in vapor form. MDEA breaks down on heating.
MDEA industrial applications is as surfactant intermediate; absorption of acidic gases (MDEA has more efficient absorption of Sulphur impurities and acid gases finding in natural gas processing than MEA & DEA); catalyst for polyurethane foams (Efficient catalyst for urethane and epoxy resin coating system); pH controller, corrosion inhibitors and anti-scaling factors; fuels and fuel additives.
solids separation factors; paint additives and coating; additives; solvents (became part of product formulation or mixture); synthesis of painkillers and the intermediate product of several products; functional fluids (open and closed system); gas adsorbent(cleans up the gases especially natural gas for removing a massive amount of Carbon Dioxide; scrubbing and extracting factor in Gas treatment)
In amine treatment, eliminating acidic impurities from natural and process gasses is another usage of MDEA. Benefits of this usage are selectivity to hydrogen sulfide, energy usage decreased up to 30 %, productivity and lifetime of gas treatment units growth, low corrosiveness, no resin formation, reduction in circulating absorbent consumption, and operating costs decreased. In addition, Methyldiethanolamine is a decarbonizing and sweating factor in chemic, oil refinery, gas synthesis, natural gas, Methyldiethanolamine is an alkanol amine the usage is in tail gas treating and hydrogen sulfide enrichment units for selectively removing hydrogen sulfide from gas streams containing carbon dioxide.